Complete Construction Contractors
You're about to make one of the biggest financial decisions in your life. Make sure RDV Construction is at the core of that decision as your full-service hometown contractor, and buy the home you have always dreamed of owning.
At RDV Construction, custom and semi-custom residences as well as townhouses are constructed by a team of expert tradesmen, subcontractors and suppliers, ensuring unparalleled attention to detail throughout your entire home"from the inside out.
No matter what kind of living space you buy from RDV Construction"whether a sensibly designed townhouse or a home customized to your needs" you'll find luxurious comfort in every square foot.
Find out more about the area we build in. Click here to visit Glencoes' Chamber of Commerce.
RDV Companies recently purchased the Panther Heights Development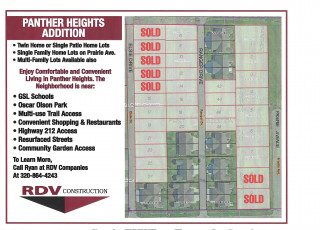 The development is located in the North East Corner of Glencoe. The Development has Patio Homes and Twin Home Lots available, as well as some single family lots and multi family sites. We are excited to offer these premium lots with custom home building options to meet your needs. Call Ryan to learn more. 320-864-4243